The father-daughter dance at a wedding can be one of the sweetest moments of the day, so we decided to help you with your decision on what exactly to dance to. In no particular order:
1) "My Girl" by The Temptations
Probably the most popular song to dance to, but with good reason. The melody is groovy and fun, and the lyrics really suit the occasion.
Lyrics we love:
I've got sunshine on a cloudy day
When it's cold outside, I've got the month of May
I guess you'd say
What can make me feel this way?
My girl
Talkin' 'bout my girl

2) "Daughters" by John Mayer
There is some debate as to whether or not this is a good choice for a father-daughter dance, considering the story is about a girl without a great dad in her life, but the chorus brings us back around with the lyric "daughters will love like you do".

Lyrics we love:
So fathers, be good to your daughters
Daughters will love like you do
Girls become lovers who turn into mothers
So mothers, be good to your daughters, too


3) "Unforgettable" by Nat King Cole and Natalie Cole
Natalie and Nat King Cole perform the perfect father-daughter duet.

Lyrics we love:
That's why darling, it's incredible
That someone so unforgettable
Thinks that I am unforgettable, too

4) "What a Wonderful World" by Louis Armstrong
This is a classic. It's slow and great for dancing, but it's also gloriously uplifting and positive.

Lyrics we love:
I see trees of green, red roses too
I see them bloom for me and you
And I think to myself, what a wonderful world

5) "That'll Do" by Peter Gabriel
This may not seem like your typical choice for a father-daughter dance, but "That'll Do" is a song about growing up, growing strong, and having a kind heart, which fits with the wedding tradition of a father giving his daughter away. It's very touching and perfectly sweet.

Lyrics we love:
You'll make it; you can never forget!
A kind and steady heart, can conquer doubt and fear.
A little courage goes a long, long way
Gets you a little bit further down the road each day

6) "Over the Rainbow" by Israel Kamakawiwo'ole
A beautiful combination of two classic songs, "Somewhere Over the Rainbow" and "What a Wonderful World," made perfect by possibly the sweetest tenor of all time and his ukulele.

Lyrics we love:
I hear babies cry and I watch them grow,
They'll learn much more than we'll know
And I think to myself
What a wonderful world


7) "Forever Young" by Alphaville
Maybe a slightly unconventional choice, but if you're going to stay young somewhere, it'll be in your parents' hearts. It may seem silly, but I promise, on the day – there will be tears.

Lyrics we love:
Youth's like diamonds in the sun
And diamonds are forever

8) "Lean on Me" by Bill Withers
Withers sings about friendship here, but the lyrics really fit a great father-daughter relationship. "Lean on Me" is about supporting and loving each other. What more could you ask for from your dad?

Lyrics we love:
Lean on me when you're not strong
And I'll be your friend, I'll help you carry on
For it won't be long
'Til I'm gonna need somebody to lean


9) "God Only Knows" by The Beach Boys
This song leaves you room to dance however you'd like – sway around the dance floor, or make up a routine to go with the building melody.

Lyrics we love:
You never need to doubt it
I'll make you so sure about it
God only knows what I'd be without you

10) "Here Comes the Sun" by The Beatles
A more upbeat piece, this one is great if your dad isn't afraid to get a little silly on the dance floor.

Lyrics we love:
Little darling, the smiles returning to the faces
Little darling, it seems like years since it's been here
Here comes the sun, here comes the sun
And I say it's alright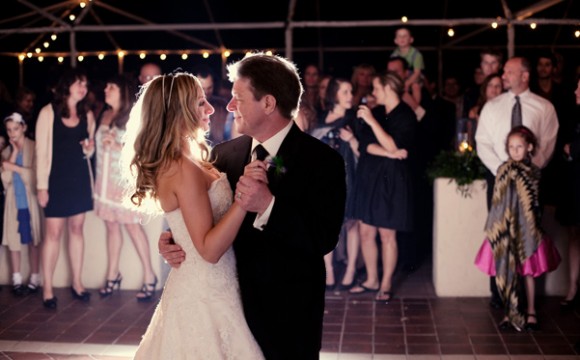 What did you think of our list? Anything you would add? Anything you think shouldn't be there? Let us know in the comments!